CALA offers Online (zoom), On-site and Independent Learning - Earn CECs

CALA has launched online Independent Learning training events through recordings of live ZOOM events. CALA also offers on-site, zoom and hybrid (combination of theory on zoom and practical on-site).
This is an exciting new way for CALA to offer CALA training events. Each platform will be a great opportunity for your participants to learn the theory behind exercising in water. It will help the participants understand: the benefits of each exercise, muscles and joints used for each exercise, proper form and understand the magical properties of water.
---
Certifying Internationally Recognized Aquafit Leaders since 1993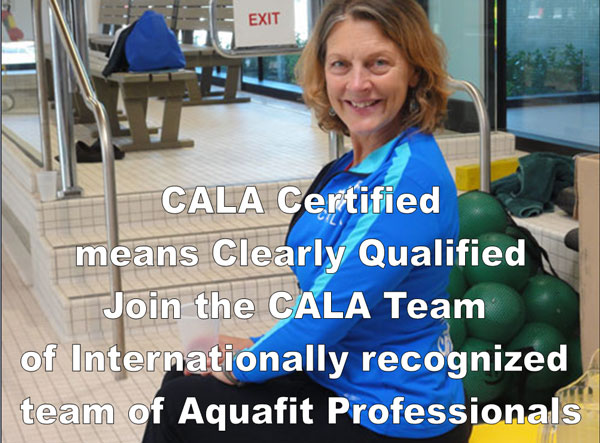 Charlene Kopansky,, President and Founder
Hons. B.Sc., Human Kinetics, B.Ed. Sc., P.H.E., canfitpro Lifetime Achievement Award
The Canadian Aquafitness Leaders Alliance Inc.(CALA), is dedicated to providing a high quality training, certification and communication network for aquafitness leaders and aquatic rehabilitation specialists. CALA promotes professionalism and excellence through thoughtful integration of the mind, body and spirit.
---
Charlene received the CanFitPro Lifetime Achievement Award.
---
CALA was established by Charlene Kopansky in 1993. The company grew in response to the demand from fitness professionals for focused leadership and training in the specialized field of aquafitness and aquatic rehabilitation
---
Charlene leading a class of Instructors at a CALA conference
The CALA organization seeks to enhance aquafitness leadership through our comprehensive manuals, intensive training courses, workshops, conferences and a high certification process.