Charlene presents with creativity, enthusiasm and commitment.
Charlene leading a class of Instructors at a CALA conference
The CALA organization seeks to enhance aquafitness leadership through our comprehensive manuals, intensive training courses, workshops, conferences and a high certification process.
Charlene's Methodology (Mind, Body and Spirit)
Charlene believes it is important for participants to experience a total well balanced body workout. Participants are encouraged to listen to their bodies and think about how and what they feel while performing each movement. Participants learn about their body by gaining knowledge about the muscles and joints involved in each movement, how varying intensity and lever length affect each movement, and how the body benefits from correct form and posture. The pool is a liquid gym and the 5 magical properties of water play an important part maximizing the benefit of each movement.
Charlene received the CanFitPro Lifetime Achievement Award.
Charlene continues to bring the "Kopansky Methodology" to the world.
Recently Charlene was in South Africa
CALA offers Online (zoom), On-site and Independent Learning - Earn CECs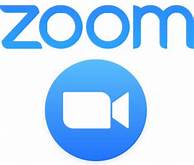 Download ZOOM

CALA has launched online Independent Learning training events through recordings of live ZOOM events. CALA also offers on-site, zoom and hybrid (combination of theory on zoom and practical on-site).
This is an exciting new way for CALA to offer CALA training events. Each platform will be a great opportunity for your participants to learn the theory behind exercising in water. It will help the participants understand: the benefits of each exercise, muscles and joints used for each exercise, proper form and understand the magical properties of water.
Fitness leaders, coaches and personal trainers are exploring Water Running, Aqua Kick Box, Aqua Pre-post Natal, Aqua Cycling, Ai-Chi, Aqua Matt, Aqua Liquid Barre, Aqua Infused Yoga, HydroRider, Group Aquafitness and many forms of Aqua Rehabilitation. These and other specialty water exercise programs are making their way into private and community based pools.
CALA continues to be the front runner in researching and developing new programs. The creative spirit that drives this organization is reflected in the passion and commitment demonstrated by CALA certified leaders and trainers world wide.
Certifying Internationally Recognized Aquafit Leaders since 1993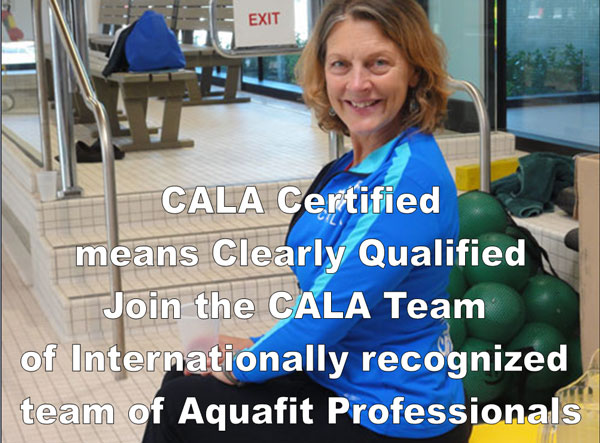 Charlene Kopansky,, President and Founder
Hons. B.Sc., Human Kinetics, B.Ed. Sc., P.H.E., canfitpro Lifetime Achievement Award
The Canadian Aquafitness Leaders Alliance Inc.(CALA), is dedicated to providing a high quality training, certification and communication network for aquafitness leaders and aquatic rehabilitation specialists. CALA promotes professionalism and excellence through thoughtful integration of the mind, body and spirit.
CALA continues to develop leading edge programs to increase the diversity of water exercise programs.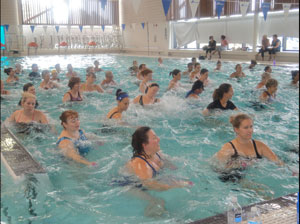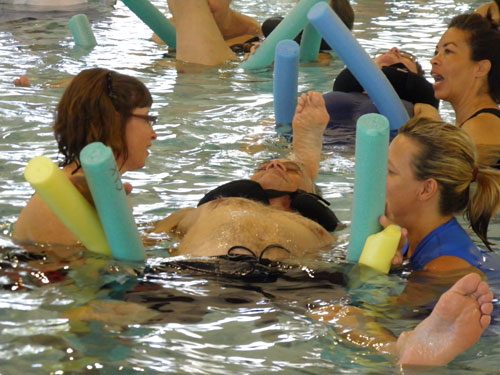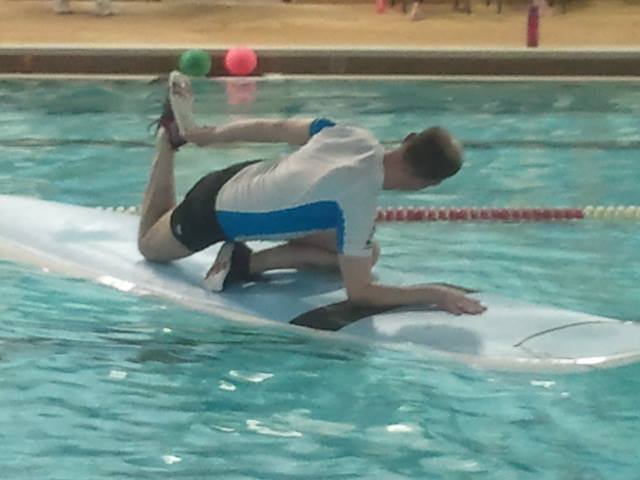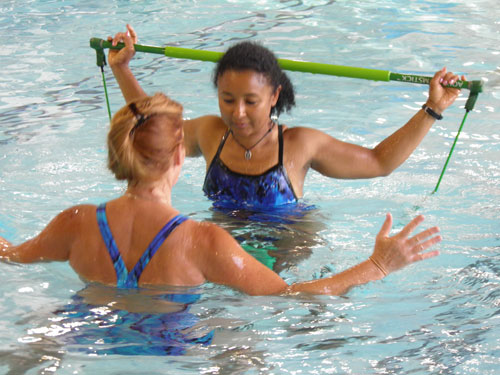 How CALA came to be
CALA was established by Charlene Kopansky in 1993. The company grew in response to the demand from fitness professionals for focused leadership and training in the specialized field of aquafitness and aquatic rehabilitation
AUA Healthy Perspectives : Water Wellness - Ocean Fitness Charlene Kopansky Interview
The resurgences of aquafitness as a viable means of enhancing well-being is exciting and encouraging. People are filling classes, moving to music and enjoying the challenges and rewards of the aquafitness experience.