Path 1
Healthy and Functioning Participants: Regular Programs
Group Aqua Fitness (GAF) pdf
Most people choose to get their certification in Group Aqua Fitness.

Water Running/Jogging pdf

Aqua Cardio Kick Box pdf

Introduction to Aquafitness pdf

Aqua Infused Yoga pdf

Hydro Rider pdf

Liquid Barre
In Development
Personal Training

Older Adults

Aqua Kids

Pre/Post Natal

Matt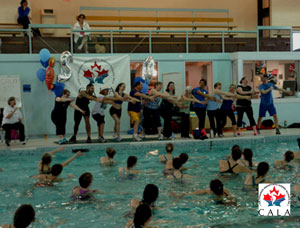 Path 2
Post Rehab and Unhealthy or Low Functioning Participants: Healing Waters Program pdf
Healing Power (compulsory)

Introduction to Therapy (compulsory)

Aqua Arthritis Specialty Training
Other Specialty Post-Rehabilitation Courses in development
Aqua Back Splash

Aqua Joint Rehabilitation

Aqua Sports Injuries

Aqua Cardiac Rehabilitation

Aqua Breast Cancer

Aqua Osteoporosis

MVA Rehabilitation

Healing Waters Hydro Rider
The CALA Healing Waters Program is designed to provide high quality, current, research based training and certification in common concepts and water exercise for specialized populations. Selected specialty workshops will be on offer in the following areas of interest:
Cancer

Diabetes

Post Burn

Post Cardiac

Osteoporosis

Sports Injuries

Multiple Sclerosis

Back Care and Whiplash

Post Stroke and Brain Injury

Degenerative Neuromuscular Conditions (including Muscular Dystrophy, Parkinsonís)
Once you are CALA certified you will need to do the following:

Maintain your membership status on an annual basis

Attend 8 hours of workshops or other specialty courses.
Note: If you attend more than 8 hours of workshops, you can bank your extra credits (CECs) and use them for future recertification. You never lose the credits that you earn. If you are unable to attend workshops or a conference, you can petition for CECs by attending other events that are related to fitness

Pay a recertification fee
Note: If the course you are looking for is not listed, contact CALA to discuss your course requirements.
Become a CALA Trainer, Assessor or Mentor
Once you are an experienced CALA Instructor you may choose to join the CALA Training Team and become a:
Learn how to become a CALA Certified Trainer
Conduct workshops and certification courses
Learn how to become a CALA Practical Assessor
Assess persons taking practical CALA certification and mark written exams
Learn how to become a CALA Mentor
Mentors are always needs to help develop new instructors to their highest quality instructor potential.