Gold Standard in Aquafitness Leadership
CALA welcomes you as you commence your
CALA Aquafit Certification journey

The Kopansky Method - Aquafit Training and Certification
Charlene believes it is important for participants to experience a total well balanced body workout. Participants are encouraged to listen to their bodies and think about how and what they feel while performing each movement. Participants learn about their body by gaining knowledge about the muscles and joints involved in each movement, how varying intensity and lever length affect each movement, and how the body benefits from correct form and posture. The pool is a liquid gym and the 5 magical properties of water play an important part maximizing the benefit of each movement. Learn more about Charlene and CALA.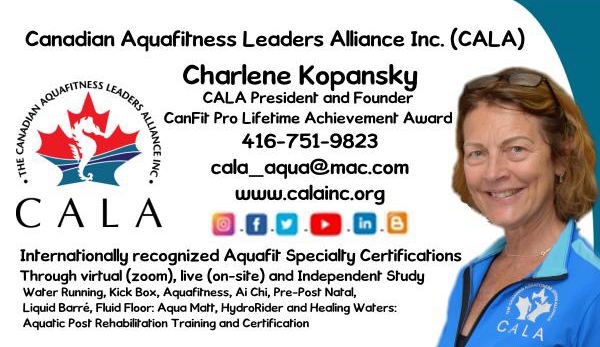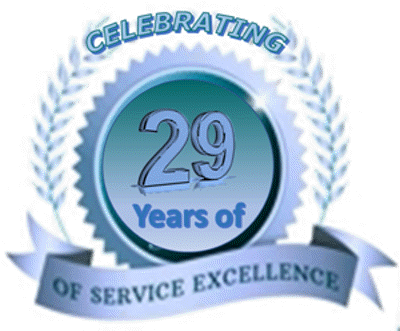 Charlene presents around the world in places such as Mexico, South Africa, Germany, Tobago, England, Israel, Brazil and New Zealand to mention a few. Canfitpro recognized Charlene's distinguished contribution to the Aquafit Industry by presenting her with the Life Time Achievement Award.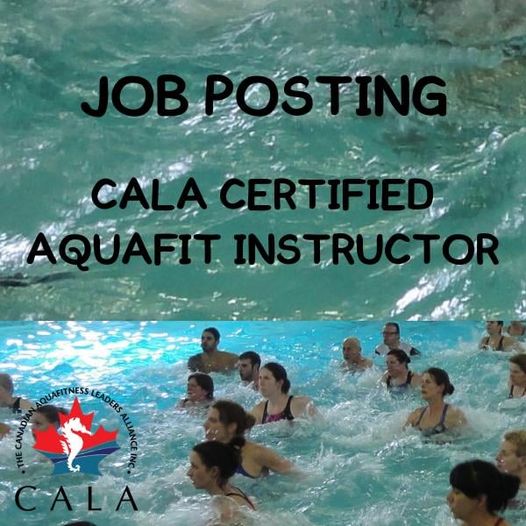 CALA Aquafit Instructor - Town of Ajax, Ajax ON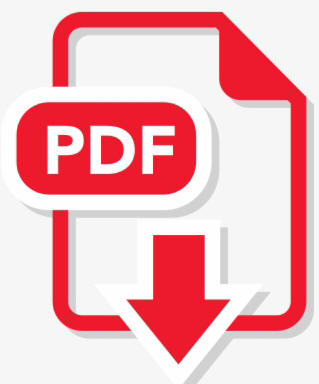 posted Dec. 2022
CALA Aquafit Instructor-Finnish Canadian Seniors Centre, Toronto ON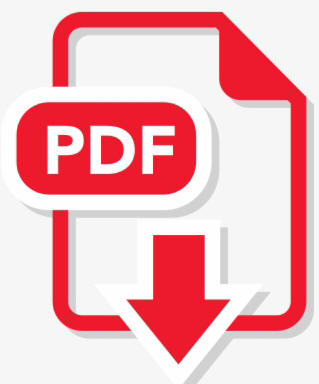 posted Jan. 17, 2023
Pre-requisite: CALA Vertical Water (VWT) Course training is required for all Specialty Certifications
Register and complete the CALA Vertical Water (VWT) Course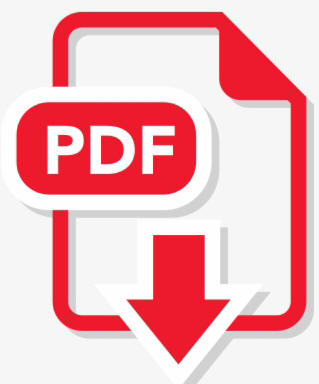 or
Letter of Acceptance to Bypass VWT Course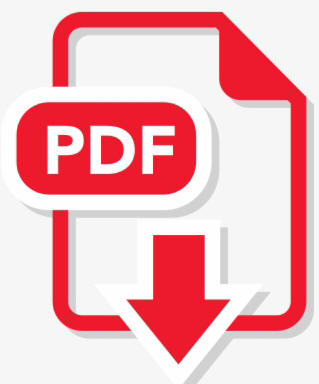 CALA Group Aquafitness Instructor (GAF)

CALA Aqua Pre/Post Natal (PPN)

CALA Aqua Hydro Rider (HR)

CALA Aqua Cardio Kickbox

CALA Aqua Running (AR)

CALA Liquid Barré

CALA Ai-Chi

CALA Aqua Infused Yoga (AY)

CALA Healing Waters - Post Rehabilitation (HW)
In development
CALA Matt

CALA Kids

Older Adult

CALA Aqua Personal Training
Once you complete your certifications and gain experience you may want to become a:
CALA Assessor

CALA Trainer

CALA Mentor (contact CALA cala_aqua@mac.com)
CALA continues to create opportunities for members to connect with one another. We promote an open door policy whereby CALA instructors, trainers, presenters and assessors are encouraged to post and respond to questions, create local networks to share ideas and support one another as we continue to strive for excellence in our leadership skills.
Your membership includes:
- Reduced rates for CALA training events
- Access to the CALA network of national and international CALA
Aquafit Instructors
- CALA Merchandise
- Partner discounts
Aquafit is for everyone regardless of abilities and age. There is a class for everyone. Depending on the facility class may range from an intense bootcamp or HITT to post-rehab or pre/post natal. Some facilities of specialty classes such as Aqua Yoga, Ai-chi, Water Running, Liquid Barre or Kickbox. The expertise of CALA Instructors ensures all participant's requirements. Alternative to each movement will be present.
CALA training is open to everyone who is interested in expanding their knowledge of Aquafit. The audience includes but not exclusive to: instructors taking refresher course, medical professionals, aquatic management, participants, people looking to use Aquafit for cross training, swim instructor/lifeguards and sports teams.
All certifications require you to teach a class based on the course content using the Kopansky Methodology. In addition you may be required to complete a case study, take a written exam or another assessment method. Assessment details for each CALA Specialty Certification to be posted.
Vertical Water (pre-requisite)
You will write a 2.5 hour open book exam made of 100 questions related to the course materials (80% pass). If 80% is not achieve you may re-write the exam. You can take the training as Independent Learning or attend an On-site Live session. Once you complete the VWT course you may select any CALA Certified Course.
(keep an eye on the CALA Schedule Events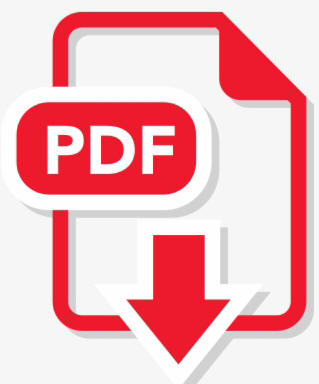 for dates and locations)
CALA recommends you take the CALA Group Aquafitness (GAF) Training and Certification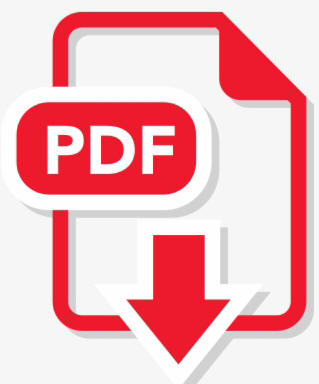 course so you have the knowledge to develop a class based on the Charlene Kopansky Methodology.
Group Aquafit Certification
Completion of 30 minute mini classes design based on the CALA class design template and then teach your 30 minute mini class. You can present your class by recording a video and submitting it to CALA, setting up a ZOOM session with a CALA Assessor or attending an on-site scheduled assessment date.
(keep an eye on the CALA Schedule Events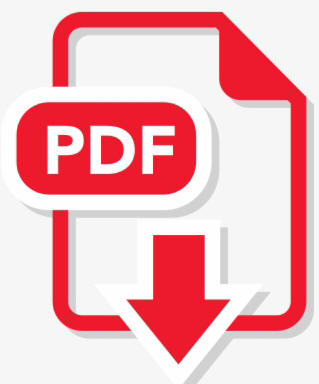 for dates and locations)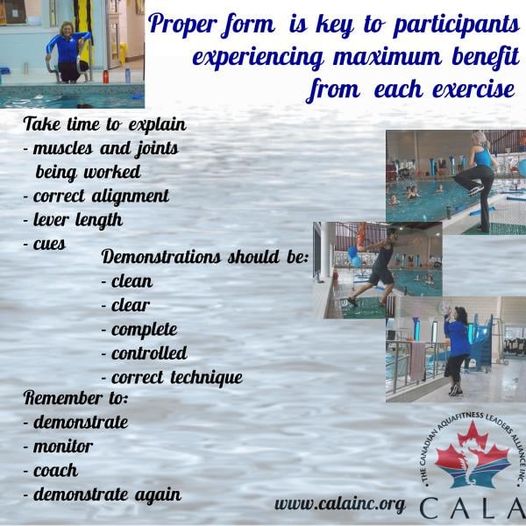 CALA offers individual and corporate membership which is renewable annually.
Membership benefits:
discounted music through YesFitnessMusic www.yesfitnessmusic.com and Power Music www.powermusic.com

reduced training fees for all CALA Training events.

access to a private Facebook Group that provides the opportunity to network with an international group of CALA Certified Instructors

discount on CALA merchandise
CALA grants 1 CEC per hour of training with the exception of certifications courses which are worth 8 CECs each. There are no CECs granted for the first time you take the Vertical Water Training (VWT). If you do the VWT course as a refresher you will be granted 8 CECs.
Each year you must recertify by completing 8 CECs of which 6 must be from CALA training and a maximum of 2 may be petitioned. You retain certification for all Specialty Certifications by taking the required 8 CECs per year and maintaining your membership.
Step 4: Check the CALA Event Schedule for the next available date for the GAF Certification and/or VWT (pre-requisite) training.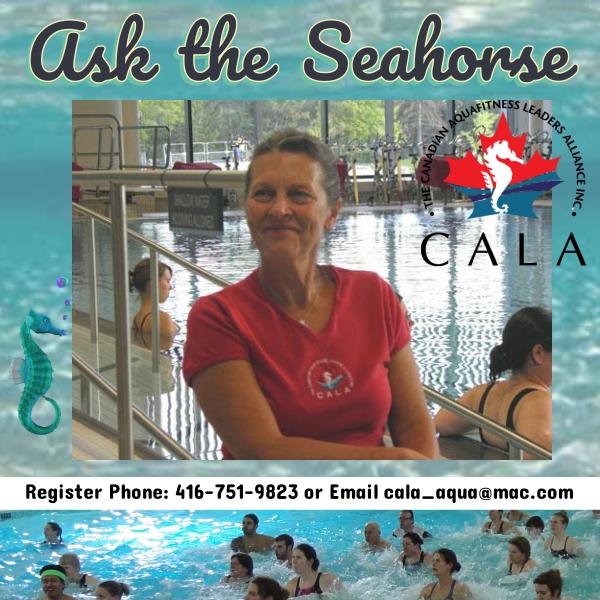 Register: Click here to view currently Scheduled Events and registration forms for certification courses, workshops and independent learning. The schedule is available in pdf format.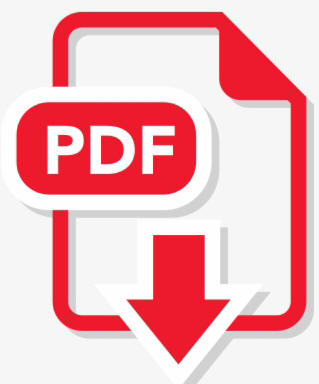 If the training you are interested in is not available, please contact CALA at cala_aqua@mac.com to discuss your requirements.
Feedback plays an important to CALA's growth. It gives us the opportunity to address and improve what we deliver.
CALA offers On-site (live at a facility), Virtual (ZOOM), Independent Learning (recordings of previous ZOOM training), and Hybrid (combination of On-site and ZOOM)
You may want to consider hosting the training you require at your facility. CALA provides customized training to meet the requirements of a facility. The training can be for staff only or open to the public. Hosting provide the opportunity to customize the training and it may be a revenue generating opportunity for the facility.
To register for any of the Independent Learning session click here. You will have access to the recordings for 3 months. Certification courses are accredited for 8 CECs and workshops vary depending on the length of the workshop. CALA grants 1 CEC per 1 hour of training with the exception of certification courses. Download the CALA Schedule Events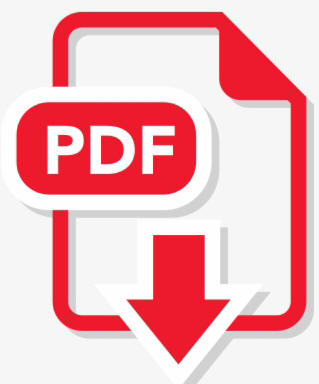 .
Highlighted Independent Learning events
Help CALA plan future Workshops
Sending CALA your training wish list. Please use the Contact Form above to submit your training interests. Remember to indicate if your facility would like to host the training. Also indicate if you are looking for live (on-site), Virtual (on ZOOM), Hybrid (combination of ZOOM and On-site) or Independent Study.
CALA offers certification course and a wide variety of workshop which can be customized to meet a facilities requirements. (see sampling below)
Workshops range in length from 2 hours to 5 hours (most are 3 hours). Prices dependent on length of workshop. First check to see if the workshop you are interested in is currently being offered live or virtual-(if yes download the registration form, if not contact CALA cala_aqua@mac.com.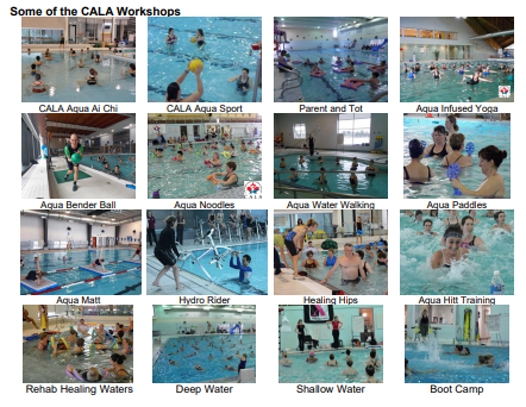 Charlene Kopansky is frequently called on for her expertise in Water Fitness.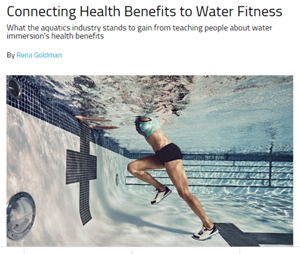 Charlene Kopansky, president and founder of The Canadian Aquafitness Leaders Alliance (CALA), based in Toronto, Ontario Canada, suggests pairing fitness instructors, such as herself, with members of the industry. Water exercise forms a social network and doesn't have to take place in a large aquatics facility, she adds. It can be done on a small scale in neighbourhood private pools.
Some builders have been known to work with local swim schools to host classes in their display pools. This comes in the name of promoting safety on a local level. Why not try the same thing to encourage the use of pools and spas for fitness? Download full article
CALA has an extensive library of resources and handouts that you are welcome to refer to. CALA welcomes contributions to their resource library.
Highlighted Handouts
View all resources and handouts