CALA Pioneers to Israel December 2010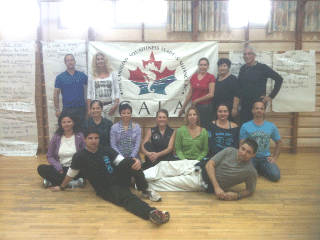 Dear Charlene: Just want to thank you personally for giving me a great week of very good learning experiences so accurate and easy to understand so lovely and full of life, full of energy and most of all a real professional.. I did a few trainer courses and it was never close to giving me the tools as you did. And it was in Hebrew ... You reminded me that my life can be change as easy as starting stand long, smile a lot and work out. Thanks a lot - Ofer Dudelzak
CALA Pioneers.... Congratulations to the CALA Pioneers. We just completed a very successful launch of the CALA Foundations of Vertical Water Training and Group Aqua Fitness Training and Certification in Israel at the Wingate Institute, Netanya from December 2-8, 2010 with Master Trainer and CALA Founder and President, Charlene Kopansky and Apprentice Oded Netzer.
The Thank You Card from Course Participants Wingate Institute, Israel - December 8, 2010 Translation from Hebrew to English
In Hebrew, the meaning of CALA is Bride, in a wedding.
We are very happy to be the Groom of the Bride, for this first CALA program in Israel.
We hope that you felt in love with us and in our country as we fell in love with you.
Thank you for a week of very rewarding and intensive study that helped us to grow and become enriched.
We enjoyed every moment. We will be happy to be in contact with you and with CALA.
This is our first season of CALA in Israel, at the Wingate Institute, December 2 - 8, 2010 and we look forward to many more…
Sincerely…Pioneer CALA Class Participants: Mor, Idit, Ronit, Uzi, Hetz, Riki, Shirley, Ofer, Karni, Tami, Nissim, Yaffa, Idan,
Pictures December 2010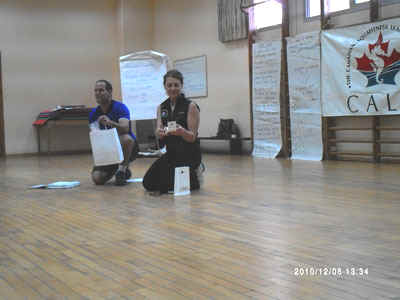 Charlene's training is recognized through receipt of valued mementos.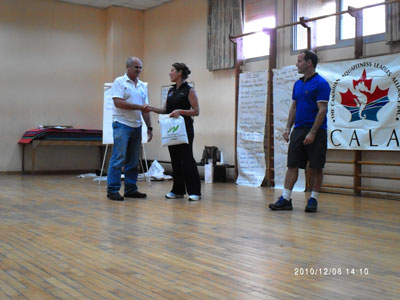 Charlene, extends her appreciation for the support and opportunity to present in Israel.