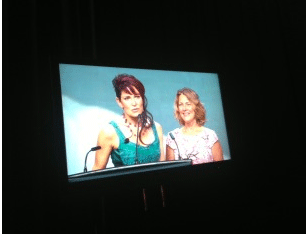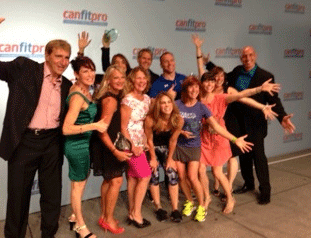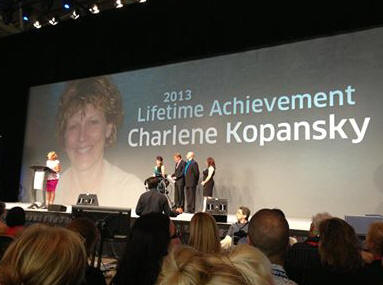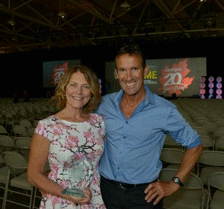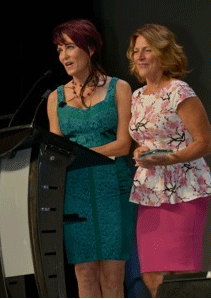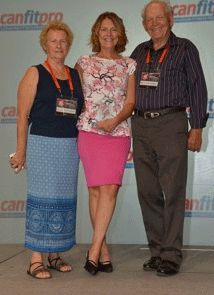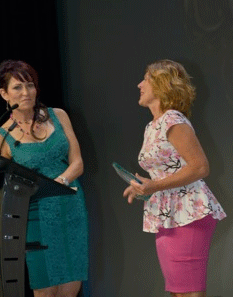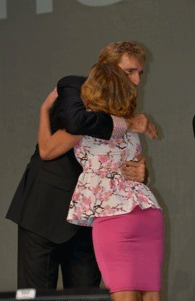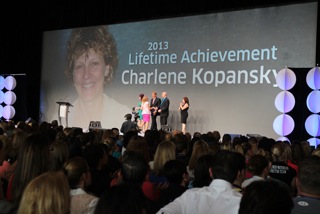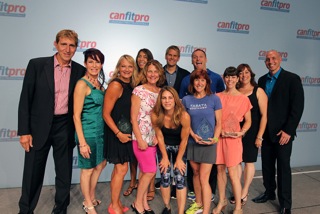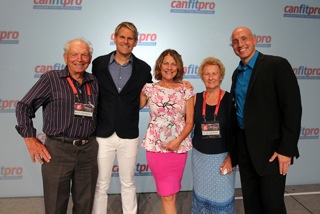 Congratulations to Charlene Kopansky who received the Lifetime Achievement Award at the canfitpro National Conference, in Toronto, Ontario on August 16, 2013.
This prestigious award recognizes Charlene's significant contribution to health, fitness and wellbeing. Charlene founded CALA, The Canadian Aquafitness Leaders Alliance Inc., in 1993, in response to a need for quality education custom designed for movement in water. Charlene and her team of talented Trainers and Assessors continue to build a strong membership of dedicated leaders in a variety of vertical water training specialties including aqua fitness, healing waters, aquatic post rehabilitation, aqua yoga, aqua for older adults, aqua kick box, water running, and aqua personal training (to name a few). Writing current, research based manuals steeped in holism while creating workshops and other resources, Charlene and her team inspire people to follow their passion, joining her in creating opportunities for people from all walks of life, of all sizes and all shapes to 'dip their body into water' and experience the joy of movement. The CALA philosophy of leadership "encourages the mind to discover, the body to move and the spirit to soar".
Just a few of the many notes, letters and emails of congratulations received since winning the prestigious Lifetime Achievement award.
"You have worked very hard at championing a segment of the fitness industry that is inherently challenging to get people to even dip their toes in (pun intended, and you have always conducted yourself professionally and with the greater good of the end user in mind." Rod Macdonald, Vice President, Chief Privacy Officer, Editor in Chief canfitpro magazine, Toronto, Ontario
"I just read you received the Lifetime Achievement award. That is simply awesome! Congratulations! I am happy you are (once again) being recognized for your wonderful spirit and the positive impact you have had on so many lives. I am ever so glad I continue to have the opportunity to study with CALA. Bravo". Joanna, Toronto, Ontario
"Congratulations on your canfirpro life time achievement award. It is well deserved recognition of your commitment to fitness, education and training. Your CALA members benefit from your involvement with canfitpro and other fitness associations. All the best", Marie, Ottawa, Ontario
"Well done on winning the Lifetime Achievement award, and becoming the Queen of Aqua. You deserve it with all the work you have put into this discipline. Congratulations!" Ghita, Pretoria, South Africa
"Charlene, I love all the CREATIVE projects you continue to BIRTH into this world."
Love Hana, Vancouver, BC
"Charlene, I will always stand behind my Cala training! Twofold reasoning: 1) great content & training & people & 2) how you are 100% committed to Aquafit & equity & have been so kind & understanding of issues that I've had to deal with healing & maintaining my spinal & pelvic health on an ongoing basis. I support those who stand with me, always!
Renee, Toronto, Ontario
Hey Charlene
Great to see you at Can Fit. Once again congratulations on your award. You looked so good and your word touched everyone in the room! I can't believe you didn't cry (wow).
Hi Charlene,
I was looking up Sue Pampara for aqua aids and saw all your news. Well done on becoming the Queen which you surely are with all the work you have put into aqua. Still busy and loving it although our gym is now saving money on electricity and the water is 22! It is so disheartening as quite a few find it much too cold! I am trying to make other arrangements with a swimming teacher here in Klerksdorp! Carry on your good work! Love Ghita
Hello Charlene
I am a little late getting this message to you...Congratulations on your canfitpro life time achievement award. It is well deserved recognition of your commitment to fitness, education and training. Your CALA members benefit from your involvement with canfitpro and other fitness associations. All the best, Marie
Hi Charlene,
Congratulations on your Lifetime Achievement award at the Canfitpro Conference.. what an honour!! You deserve it!
Maureen, CALA Certified Leader, Thornhill, Ontario
Hi Charlene!
Congratulations too, Charlene, on receiving the CanFitPro Lifetime Achievement Award. What a thrill this must be for you! Your dedication to your passion has brought quality of life to so many...and many more to come.
Anne, CALA Certified leader from Carleton Place
Charlene, Happy New Year to you and to all CALA's Staff and congratulation for the CAN FIT PRO Award! We are so proud of you even without an award you such an amazing teacher and leader.
Best Regards, Omselama, CALA Certified Leader, Hamilton, ON
Hi Charlene,
Congratulations on receiving such a prestigious award. You really deserve it. When I read or hear of your personal accomplishments as well as the activities of CALA it makes me proud to know I have been a part of CALA. Keep up the good work.
Marilyn, (an incredible human being, CALA Certified for years, host of many workshops, courses and conference... Calgary, AB. Thanks!)