What temperature should the water be?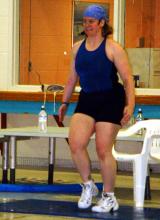 One factor that needs to be taken into consideration is the target audience.
If your clientele is older, or unfit, the water may need to be warmer: 85 to 86 degrees F.
If the clientele is very fit the water could be between 83 and 85 degrees F.
If this is gentle ROM class for therapeutic purposes, he water needs to be warmer: 88 to 92 degrees F.
Is a class broken down into sections?
Yes, to ensure a total body workout the instructor will lead you through 4 phases during your session, those being warm up, cardio, muscle strength and endurance and stretch. Each phase has a purpose and your instructor will ask you to do each exercise in a specific way depending on the phase. You should always follow your instructors leads while working at your own level.
Phase 1 - Warm-up is used to do just that. It warms up the body and muscles, lubricates the joint and starts the kick starts the heart.
Phase 2 - Cardio
Phase 3 - Muscle Strength and Endurance. Your leader will take you through a number of exercises that will help build your muscles and increase their endurance. These exercises may include repeated movement with one leg and then repeated on the other leg. These exercises may be repeated 4 times with a break in between to allow the muscle(s) to relax. An example is repeated hamstring curls. You may do 4 sets of 15 seconds on each leg and then 1 minute of a variety of swivels.

Phase 4 - Stretch - Your leader will lead you through stretches and holds that will ensure the full body is stretched before you leave the water. It is important that these stretches be done at the end of a session.

Do I have to be fit to participate in Aquafitness?

Fitness level and experience are of no consequence. An interest in learning and a love of water are two ingredients which will make your Aquafitness experience fulfilling. You should always first check with your doctor before commencing any exercise. Depending on certain medical conditions you may need to alter some movements to ensure your safety (these include but not exclusive to: natal, hip replacement, arthritis). What are the benefits of Aquafitness?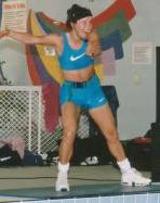 Water workouts are a great way to keep fit. Because of its unique physical properties, water provides the ideal environment for exercise. The natural buoyancy of water reduces weight bearing stress, allowing greater ease of movement with less strain on bones, joints, and muscles. The increased density of water creates even and fluid resistance, comfortably toning and strengthening muscles with greater balance and efficiency
CALA has provided an extensive list of benefits on the Aquafitness page. Aquafitness allows you to do similar to land exercises without the impact that may injure your joints.
Aquafit Questions and Answers
Question
Do you ever do water running in chest depth as an alternative? The pool in this hotel is chest depth so good for aqua but does not have any deep water. I would like to do 2 sessions together and I am thinking about an alternative for the 2nd session. Any suggestions? What do you do in Canada? It could be mothers and toddlers.
Answer
Yes, I have done water running at chest depth, you have to cue a 'toe ball heel' landing if you are running at speed, or you need to integrate half tempo moves with deliberate 'toe ball heel' landings to ensure the calf (gastrocnemius/soleus) muscles do not tighten up. Add some walking as well in the warm up and cool down, which is a 'heel, ball toe' rolling landing.
Get in the water yourself and see what you feel works with regards to running in chest deep water. Although deep is best for water running, because of the zero impact, chest deep can work really well, if carefully designed. You will not need tethers or flotation belts.
Mothers and toddlers is super fun too. I could do a workshop on that topic the next time I am in Wales. You might want to put those two topics forward for Fitness Wales... 'chest deep water running' and 'mothers and toddlers'. I would love to do those workshops.
.1. Questions: There is OA and there is Osteoporosis. I believe that Osteoporosis is not arthritic...
Would you take a person with Osteoporosis in the deep, deep suspended or would the pressure be too much on their fragile sternum, spine and rib-cage?
Would you stay chest or shoulder deep on a noodle instead?
Would you have light contact exercises to build bone density?
1. Answer: Charlene Kopansky, CALA Master Trainer, Founder and President:
First of all, osteoarthritis and osteoporosis are two different conditions.. OA involves arthritis in the bones, caused by wear and tea. Osteoporosis on the other hand, is a decrease in bone density to a level considered to be a medical condition. People with advanced osteoporosis are prone to spontaneous fractures and susceptible to injury of the bone when doing any impact activities, or quick movements.
Yes, I would take people with osteoporosis into deep water. I would design exercises to increase muscle and bone density. I would offer a variety of exercise intensities (primarily using surface area manipulations) and ensure the individual listens to their own body and chooses the level of intensity appropriate to their condition and stage of osteoporosis. I would avoid any quick changes in direction or exercise and simply change one aspect of a movement at a time.
2. Question:
Pam wrote: I am a FM sufferer and would like more information on your FibroMoves. I want to try it and ask the college pool trainer if they will import this program in their schedule.
My name is Kathy and currently I am the only FibroMoves instructor. The program was originally created by McMaster University (Hamilton, Canada) and the Kitchener YWCA however they discontinued it because of funding issues. I was a participant in the program at that time and found that it was the only thing that helped me to deal with my fibromyalgia. Since I couldn't cope without it, I contacted local pools to run it on spec with me as the voluntary leader since I have a teaching background and was a lifeguard…I was not unqualified. The program has grown and I became a qualified CALA instructor. We now have a one hour class five days a week with over 75 participants on my list. We run the program through the Canadian Aquafitness Leaders Alliance Inc. (CALA).
If your pool trainer is interested, they can contact Charlene Kopansky at CALA, cala_aqua@mac.com regarding having a trainer come to start up a FibroMoves program. Kathy Zador, CALA Certified, Clearly Qualified
3. Comment
Hi Charlene, I thoroughly enjoyed your recent full day of workshops in the UK! Wow, inspiring.
I don't know if you remember I was talking to you about a guy in Morgan & my classes who has lost an impressive amount of weight using aqua (he was not keen on dieting). The client, Ian was taking up to 200 painkillers for arthritis and with the use of glucosomine and aqua is not only active but no longer requires medication. He is still a very heavy guy but keeps up his 5 - 6 aqua classes each week as he travels between Hampshire and Kent. but keeps up his 5 - 6 aqua classes each week as he travels between Hampshire and Kent. It is so great to see the how positive Ian has become! Aqua is awesome!
4. Question
Certified Instructor, Deb Cole (Group Aquafitness and Healing Waters: Aqua Arthritis), Garden Bay, British Columbi
"Are there any concerns about pregnant women and wearing the Aqua belts? I would imagine it would be okay to wear it above the belly and have it where it is comfortable. We haven't really had anybody who is pregnant come to the programs so thought I should check on this and, if there any particular exercises not recommended for a pregnant lady."
4. Answers
Three CALA Trainer perspectives:

Kim Magnan, CALA- BCRPA Trainer, Duncan, Vancouver Island: "I saw that you were asking about wearing aqua belts during pregnancy. I attended Aquafit classes up until one week before I delivered my daughter. I was fine wearing the belt high (above my belly). I found that I was able to wear the same size belt through my entire pregnancy...the foam parts ended up being further apart as I got bigger. Some women I have talked to found the belts very uncomfortable, they said they were unstable with the belts and didn't have the core stability to hold themselves vertically in the water. Other women claim the belts make them float too much. One woman I talked to said she preferred to ride a noodle when she was pregnant and attending classes. You will find that it is really an individual thing, so make sure you give lots of options to the pregnant women in your classes and keep reminding them of options as the pregnancy progresses and their body changes."
Charlene Kopansky, CALA Master Trainer, Founder and President, Toronto, Ontario: "Regarding preggies and belts... do the Specific Gravity test, if the person can remain vertical, in deep water, not touching the floor, not moving any body parts and the water is at the tips of the shoulder, they usually don't need a belt. If they sink, while doing the Specific Gravity Test, they need a flotation device of some sort. I prefer the use of a flotation belt, however it needs to be comfortable. I have noticed that most pregnant woman wear the belt just above the belly, while some wear it just below. I think it depends on how the individual is actually "carrying" and at what stage they are in their pregnancy. In most cases, I ask the preggie to assess where the belt is most comfortable and let them make a decision on their own. Also, there is the choice of using a noodle, between the legs. Again, it becomes personal choice and comfort level."
Connie Jasinskas, CALA Master Trainer, Cambridge, Ontario: "Aquanatal is one of my specialties. I would prefer pregnant women ride a noodle like a horse rather than use a belt. A belt above the bump will restrict breathing and blood flow. If riding a noodle is not comfortable for the pelvic area (some people do find this), test to see whether she passes the "T" test - float vertically, with arms abducted to just below the surface of the water, legs straight down & still. If body fat is high enough, many people can float in this alignment. If she is a sinker and can't ride the noodle, I would recommend trying a belt around the hips, below the bump."